With Google Synchronization, all employees in Scheduling can sync their working schedule with their Google Calendar. Each appointment booked in Scheduling will be added to their Google calendar with the customer added as a participant.
If the Employee already has events in Google calendar marked as busy, those will not be available for booking in Scheduling– this will prevent overbooking. Rescheduling, cancelling or deleting the appointment needs to be done in Scheduling. Do not reschedule the appointment in Google Calendar.
Client ID and Client Secret
Before you can integrate Scheduling with Google Calendars, you must create a "Client ID" and "Client Secret".
Go to the Google Developers Console.
Click on "Select a project", or if you have some other projects active, simply click on the drop-down to create a new project.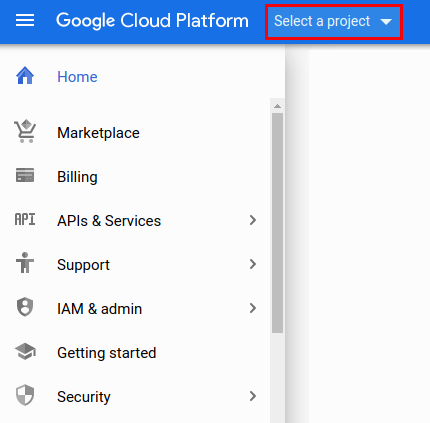 In a new window that appears, click on "NEW PROJECT" in the top right:

Enter the project name, select "No organization" and click on "CREATE":
You will see the project is being created in the top right, and when it is created you will see a notification similar to what you can see here:

If you click on this notification, it will take you to the Project's dashboard: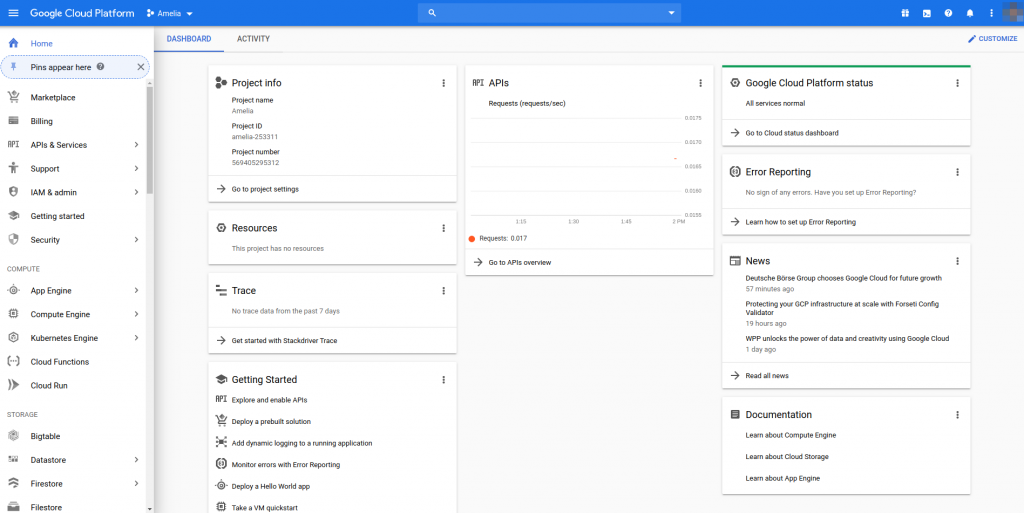 In that window, hover over "APIs & Services" on the left, and then select "OAuth consent screen"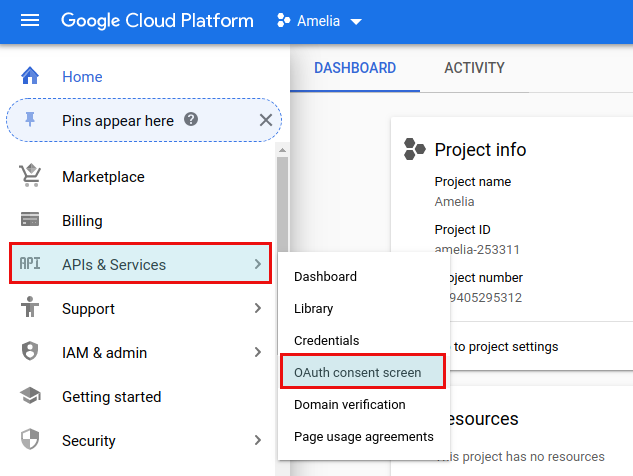 The first step in the OAuth consent screen is to select the User Type. Since your employees will be registering with their own Gmail accounts, you need to select "External", and click on "Create".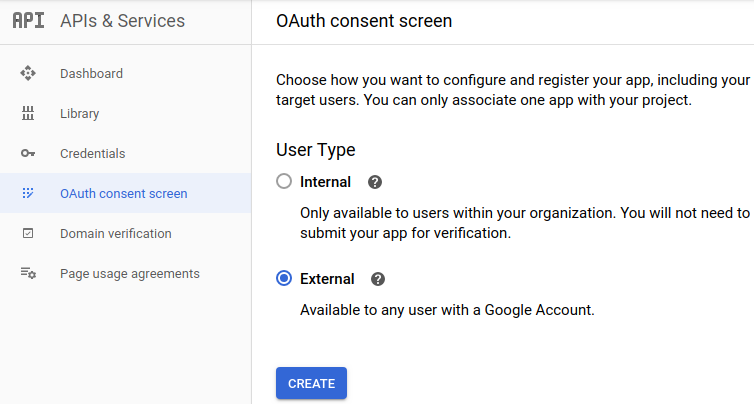 A new window will open where you need to type "App name" and choose the "User support email". This email will be the email of the Google account you're logged in with, so just select it from the drop-down.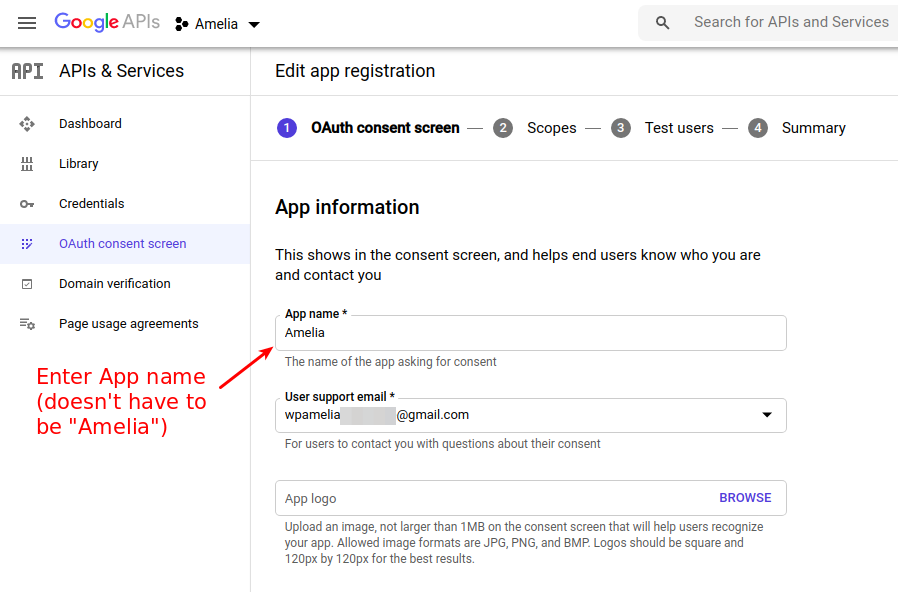 Then, you need to enter your domain under the "Authorized domains" section and add your email in the "Developer contact information" field. After adding this, click on "Save and continue".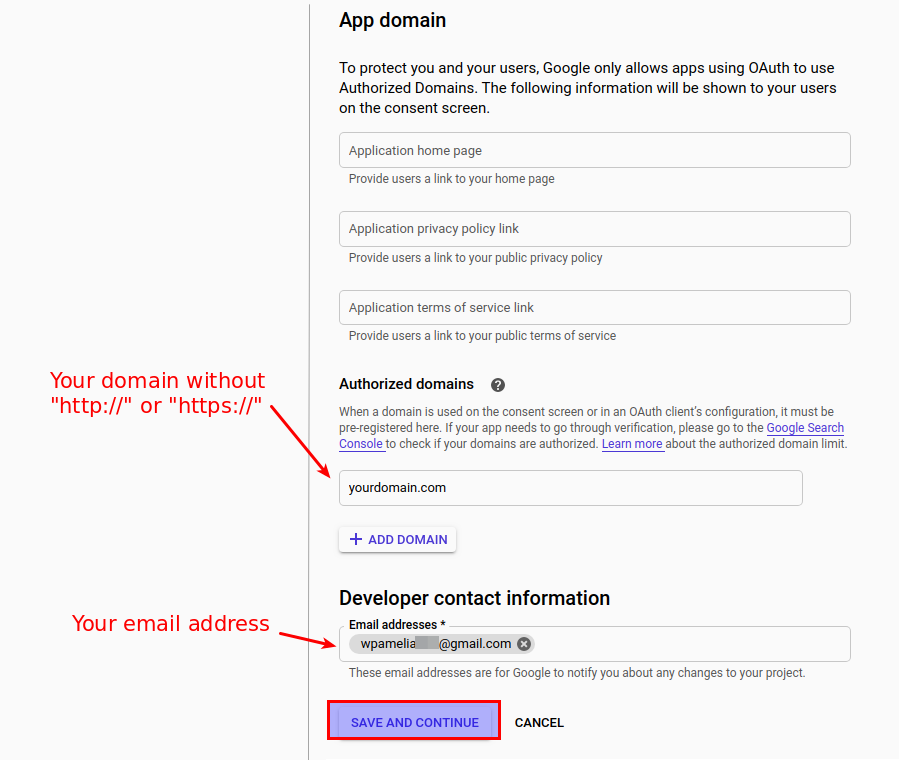 You will then be taken to the 2nd step in the process, but you can skip that. Once you get to Step 2, simply click on "Library" in the left-hand menu and it will take you to the API library.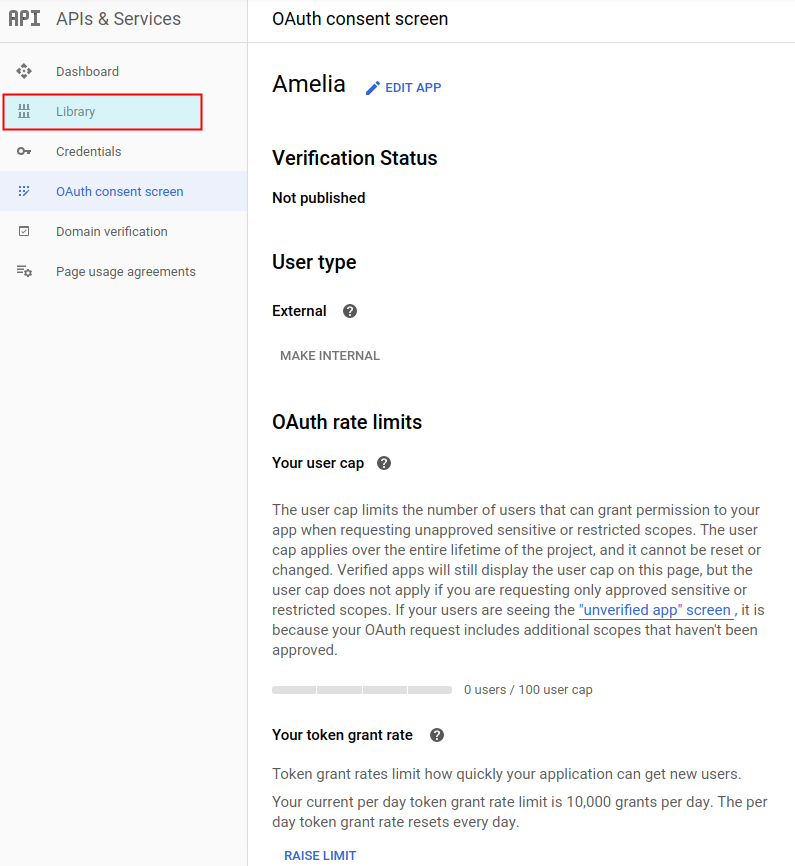 Search for the Google Calendar API on the next screen: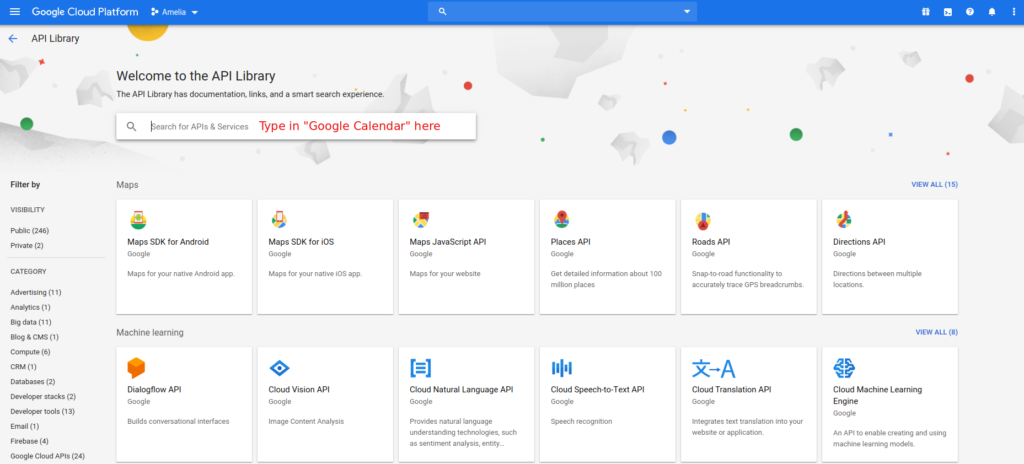 Next, click on the "Enable" button.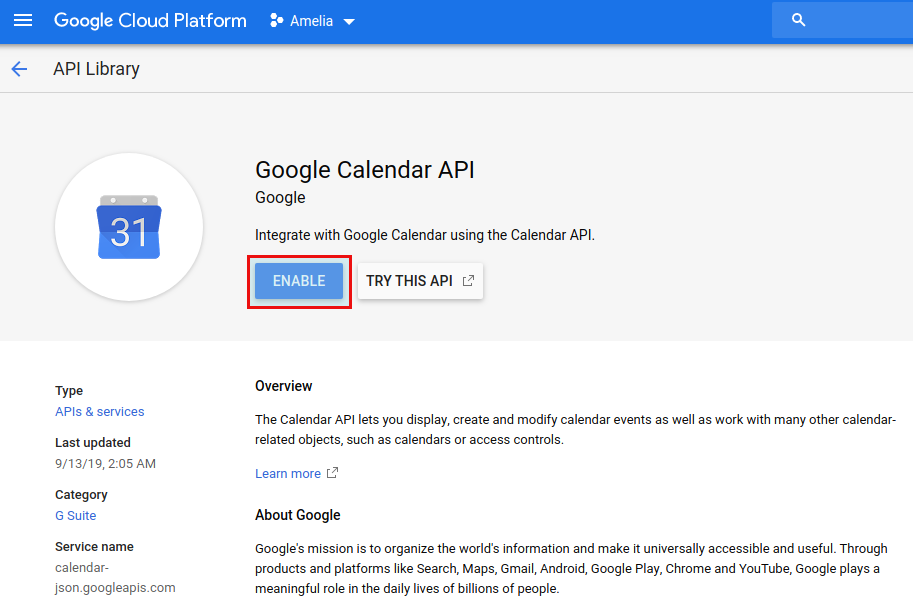 When the API is enabled, you will see it's "Overview" screen. Click on "Create Credentials" button on the far right.
<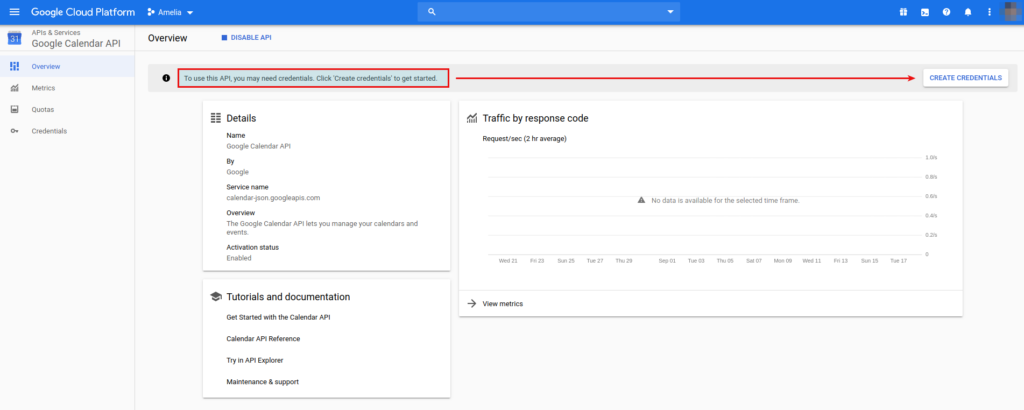 At the second step, give the "Name" of your OAuth client ID and in the "Authorized redirect URIs" field, enter the URL from "Redirect URI" field
(The authorized redirect URI will be written as https://yourdomain/wp-admin/admin.php?page=wpamelia-employees. So, if your website domain is joestax.com, it will be written as https://joestax.com/wp-admin/admin.php?page=wpamelia-employees) You can also find your "Redirect URI" field in "Google Calendar Settings" dialog in the Scheduler 'Settings' page. After that click on "Create OAuth client ID" button.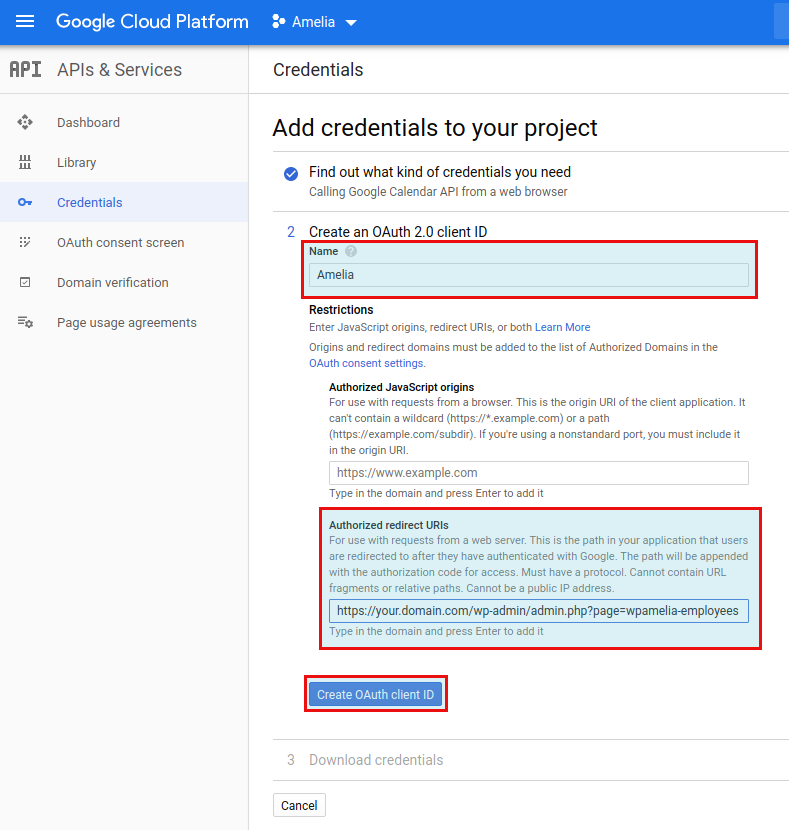 Copy and paste "Client ID" and "Client Secret" into related fields in "Scheduler's Settings/Integrations/Google Calendar" dialog in Scheduler. (NOTE: You may open a ticket with us, and we can add this for you. See end of directions.) After that, you or your employee (if the employee has access to the WordPress dashboard) will be able to connect Google Calendar with Scheduler from employee edit dialog. 

After you copy the credentials into Scheduler's settings/Integrations/Google Calendar you still won't be able to connect your employees to the calendar. To do that, go back to the "OAuth Consent screen", and under Publishing Status click on "Publish App". That will bring out a modal, where you need to CONFIRM that the app should be published.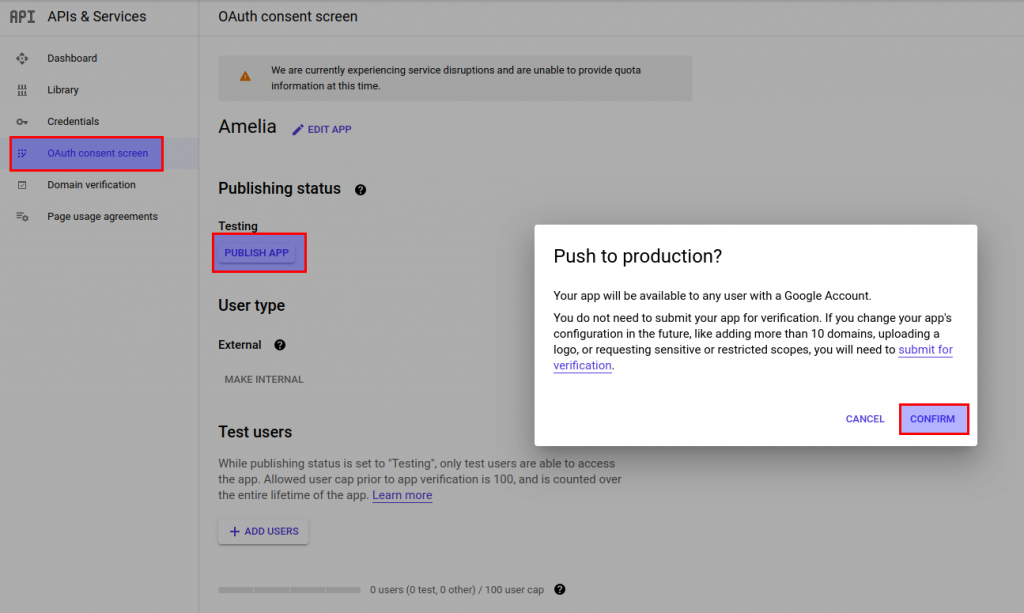 Failure to Publish the App will result in an error ("Unable to connect to Google Calendar"). If this happens please contact support.
Now, lets finalize all of the settings…
Log in to your website, and hold your mouse over Appointments. Click on 'Settings'. The "View Integration Settings"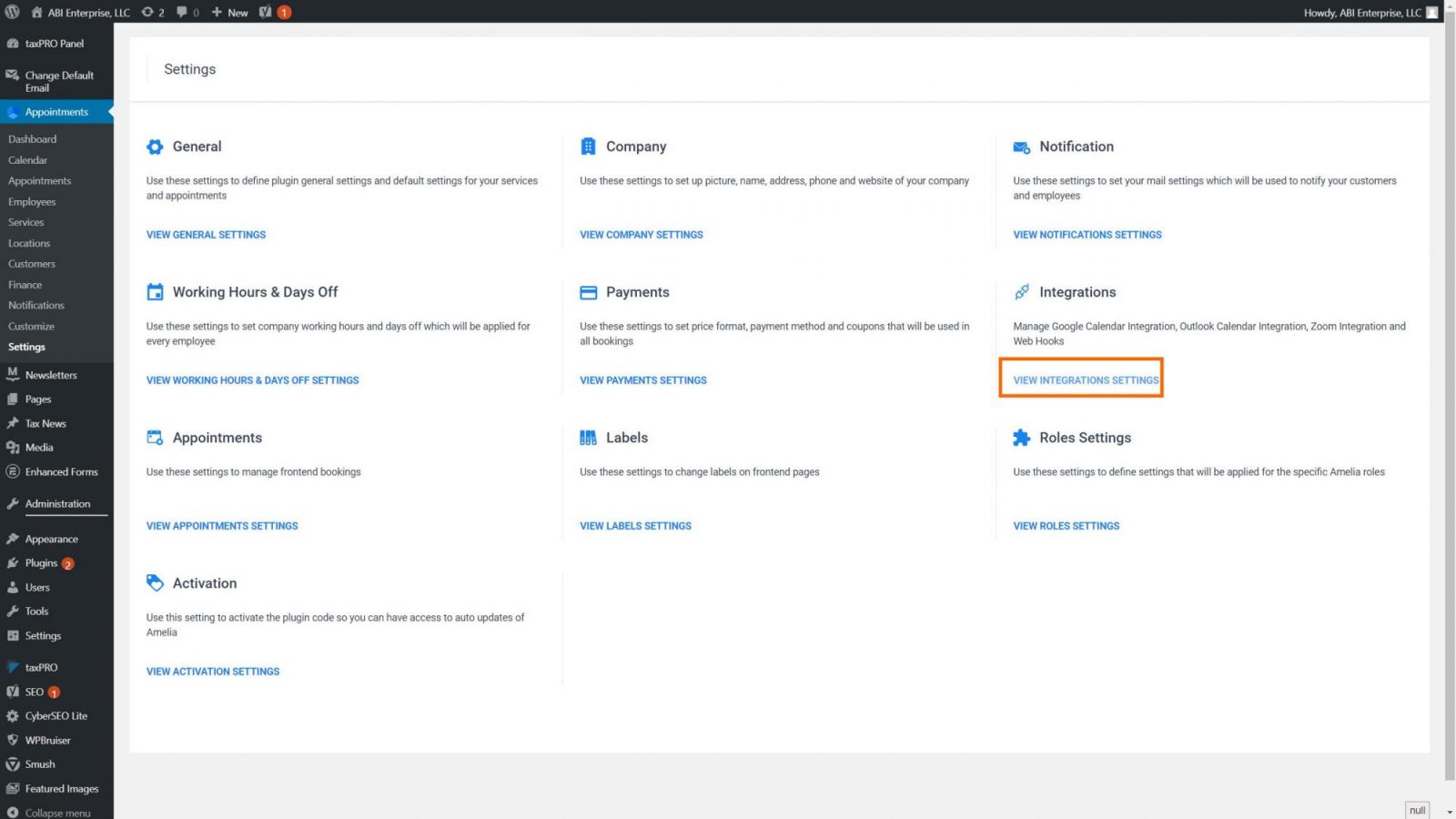 Add your client ID and Secret to this window. Everything else should be configured. Then "SAVE"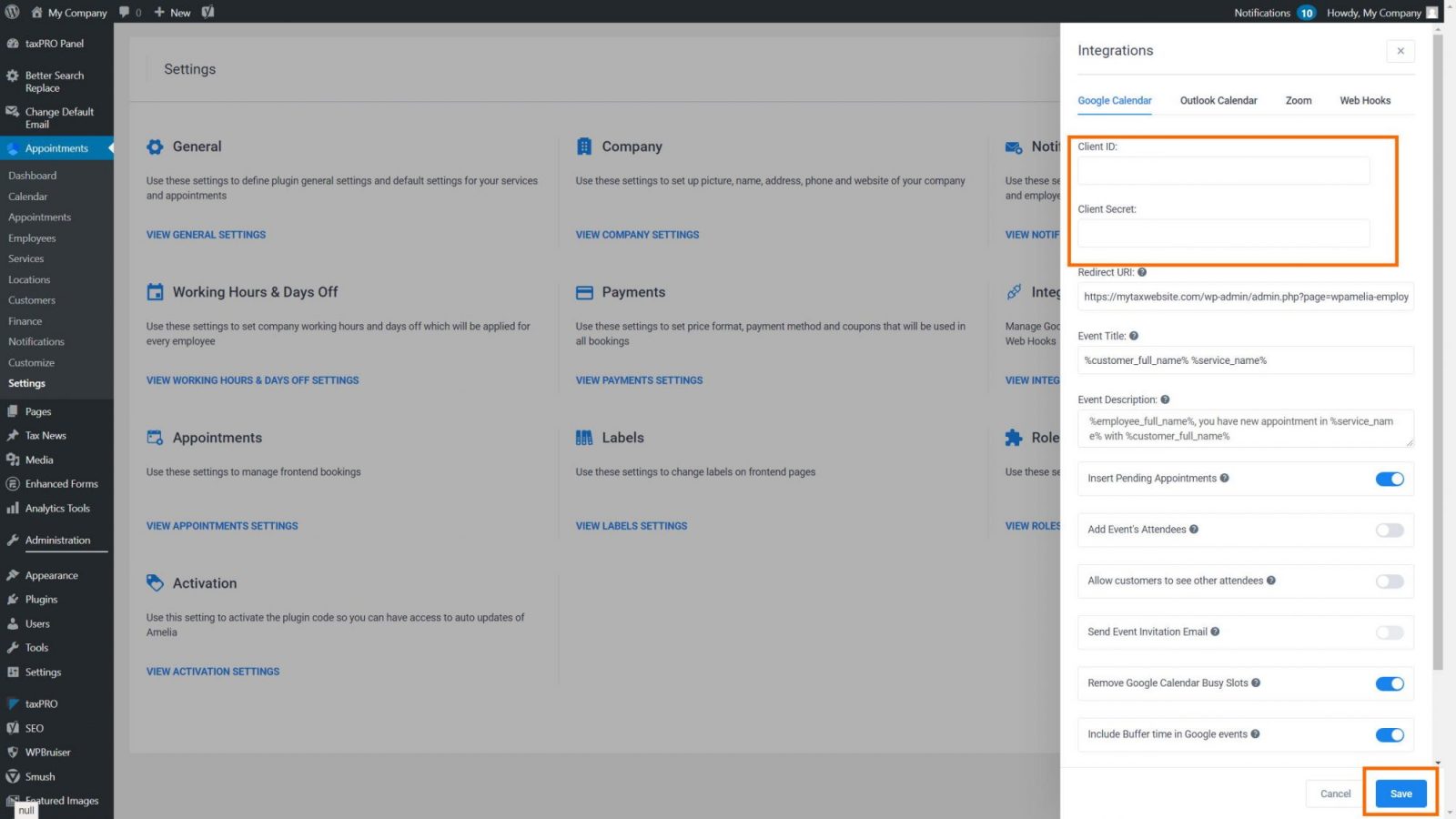 Connect with your Google accounts
Once you've completed the above setup, connect to your Google calendar for the synchronization to work. All you need to do is to open the Employee window and click on the button beside the Google Calendar option. You will then be redirected to choose your Google Account. Once you have chosen it, you will be returned to your profile in the Scheduler with the selected Google Calendar email (if the account is successfully connected the button should change the color from blue to red). You may do this for each employee as well.